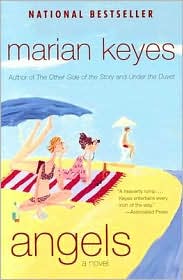 Title:
Angels
Author:
Marian Keyes
Pages:
482
Summary:
"I'd always lived a fairly blameless life. Up until the day left my husband and ran away to Hollywood . . ."
Unlike the rest of her family, Maggie Walsh has always done everything right. At thirty-three she has a proper job, is happily married to Garv and never puts a foot wrong. So why does she make a bolt for Hollywood and her best friend, Emily?
In the City of Angels, Maggie gets to do things she's never done before: mixing with film stars, pitching scripts, parrying non-stop. But is this really a once-in-a-lifetime journey of self-discovery, or is she simply running away from married life?
My Rating:
7.5/10
What I liked/disliked about the book:
Although I enjoyed the book, it is not my favourite one by Marian Keyes, and it's definitely my least favourite of the "Walsh Sister's Series." The book had Keyes' humour and spectacular story telling ability, but I just couldn't relate to the character, Maggie, as well as I have been able to relate to those in her other, and I also didn't I enjoy the novel as much I have in previous books by Keyes. The supporting characters, like Emily's neighbours were far more interesting, with their stories the Maggie's, for me, her story just fell a little short to what I normally expect from Keyes. Don't be fooled, it's still a good book, and I know a lot of people could relate to how Maggie feels, and what she went through. Keyes' does an excellent job; at bring the emotion, though the pages. Also, the story does pick up quite a lot near the end, and things fall into place and grabbed my attention for a while, but I still felt, it didn't have that same appeal as her other books.
Would I recommend it to read:
Yes, I would recommend it to read, because the book is a fun and light read - a perfect beach read, which is where I read most of the book; on a beach in Cuba! But I think her other books are far better, so if you're new to Marian Keyes and her writing, then maybe start off with one of her other books first.
What to read next:
The other Walsh Sisters Books. Watermelon, Rachel's Holiday and Anybody Out There? Helen's has yet to be written (Please hurry up and write it Marian!!) As well as her other books, one of my favourites is Sushi for Beginners, and it's my favourite Keyes book (watermelon is a close second).
Challenges:
100+ Challenge
,
A - Z Challenge
,
NaJuReMoNoMo
,
RYOB Challenge